Paterson Police Arrest Local Man Who Allegedly Exposed Himself to Children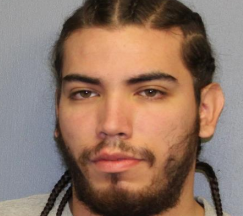 A Paterson man has been accused of luring young children into a car on at least two occasions. The suspect is 26-year-old David Cardona, a resident of Paterson in Passaic County, New Jersey. Cardona was recently placed under arrest and charged with multiple sex crimes after detectives with the Passaic County Prosecutor s Office connected him to two incidents involving underage kids. According to NJ law enforcement officials, Cardona committed the first sex offense in August when he persuaded an 11-year-old child to enter his motor vehicle. Once the victim was inside the car, Cardona allegedly exposed his genitals to the minor.
Detectives with both the Paterson Police Department and the Passaic County Police Department investigated the disturbing incident, but they were unable to identify the culprit. However, investigators had a breakthrough last month when Cardona allegedly committed a similar sexual act in front of two more young kids in Paterson, NJ. Authorities have alleged that Cardona lured two children an 11-year-old girl and a 13-year-old girl into the same car and, once again, exposed himself. Families of the victims reported the incident to Paterson police and provided a description of the suspect and the vehicle. It wasn t long before police identified Cardona and arrested him in connection with both incidents.
Severe Penalties for Sex Crime Charges in New Jersey
Cardona has been charged with several sex crimes, including three counts of luring or enticing a child, one count of sexual assault, and one count of endangering the welfare of a child. Since all of the charges are classified as felony-level offenses, a conviction for even a single count could result in Cardona being sentenced to serious prison time. For instance, sexual assault is a second degree felony that carries a potential penalty of 10 years behind bars in NJ State Prison. N.J.S.A. 2C:14-2(b) and N.J.S.A. 2C:14-2(c) stipulate that a person is guilty of sexual assault if he commits an act of sexual contact with a victim who is less than 13 years old when the actor is at least four years older than the victim. In this case, Cardona is 26 years old and at least two of the alleged victims were 11 years old. A conviction at trial in Passaic County Superior Court would not only be met with a likely prison sentence, but also a mandatory minimum time served requirement because the No Early Release Act (NERA) applies to these kinds of sex crime convictions. The NERA dictates that certain offenders must serve at least 85% of their sentences before becoming eligible for release on parole.
In addition to facing significant prison time, Cardona could also be subject to mandatory sex offender registration requirements under Megan s Law. That s because anyone convicted of felony sex offenses in New Jersey must register as a sex offender in accordance with N.J.S.A. 2C:7-2. This means that Cardona would have to notify his neighbors of his status, as well as alert local law enforcement to any potential plans to change residences in the future.
Contact an Experienced Paterson Criminal Defense Attorney to Contest Your Sex Crime Charges
Alissa Hascup is a criminal defense attorney with years of experience handling sex crime cases in Paterson and elsewhere in Passaic County, NJ. Attorney Hascup understands the nuances of the law in this area because she used to be a municipal prosecutor. Now, she fights on behalf of defendants who face criminal charges for sexual assault, luring, and other crimes in Paterson, New Jersey. Contact Attorney Hascup today to discuss your case and start building your defense.