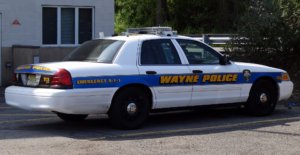 A Wayne New Jersey man has been charged with credit card fraud after he allegedly used a stolen credit card to buy items at multiple retailers in Secaucus, NJ.
The suspect is a 40-year-old resident of Wayne, NJ. According to law enforcement officials, the suspect stole a credit card, among other property, from two people at Retro Fitness. The gym is located at 20 Meadowlands Parkway in Secaucus, New Jersey.
The victims reported the theft incident to law enforcement, but not before the suspect allegedly used the stolen credit card to make $1,500 in purchases at Home Depot, Best Buy, and Walmart. Authorities indicated that most of the fraudulent purchases were gift cards.
Secaucus NJ detectives eventually identified the suspect and placed him under arrest. Secaucus police was assisted in the investigation by the Hackensack Police Department and the River Edge Police Department.
The suspect faces criminal charges for fraudulent use of a credit card and receiving stolen property.
For further information about this case, see the NJ.com article, "Wayne Man Charged with Using Credit Card Stolen from Secaucus Gym."