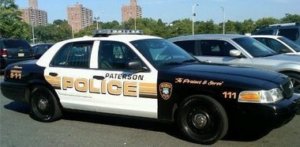 A Paterson NJ woman was recently arrested and charged with domestic violence after she allegedly used a hammer to smash a car belonging to her ex-boyfriend.
The suspect is a 31-year-old woman who lives in Paterson, New Jersey. According to Paterson authorities, the suspect became angry at her ex and went to his Paterson residence.
The suspect allegedly used a hammer to violently attack the victim s motor vehicle. At the time of the attack, the suspect s two kids were reportedly sitting in the back of the car.
The victim filmed the incident. The video was later posted to the Internet and quickly went viral, garnering thousands of views. The video reportedly shows the Paterson suspect smashing the windows on the victim s SUV and then smashing the windshield.
The two children can be heard crying as they witness the violent incident, while the father can be heard saying, You cut the babies in Spanish.
Paterson New Jersey cops eventually arrested the suspect. She been charged with domestic violence and criminal mischief. Additionally, the suspect has been charged with endangering the welfare of a child because her kids were reportedly present at the time of the domestic violence assault.
For additional information about this case, read the NJ.com article, "Mother in Hammer Attack Video Charged with Endangering Kids."