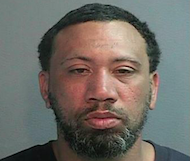 Police arrested a Wanaque NJ man accused of kidnapping a college student in Wayne, New Jersey.
The suspect is a 35-year-old resident of Wanaque, New Jersey. He allegedly approached the victim, a student at Passaic County Tech night school, around 9:00 p.m. at the drive-thru for a McDonald s located in Wayne, NJ.
According to authorities, the suspect walked up to the victim and requested the victim s cell phone so that he could call his family members. The suspect then allegedly got inside the victim s truck and threatened to harm him unless he drove him to Paterson, New Jersey.
The suspect allegedly forced the victim to drive him around New Jersey so that he could buy illegal narcotics and solicit prostitutes. Throughout the drive, the suspect reportedly acted violent and extremely irrational while smoking synthetic marijuana.
The suspect also allegedly ordered the victim to go to an ATM and withdraw $190 in cash.
Around 3:00 a.m., the victim managed to escape and dial 911 from a 7-11 convenience store located in Wanaque, New Jersey. Wanaque NJ cops soon arrived at the scene, located the suspect, and placed him under arrest.
The suspect has been charged with numerous crimes, including kidnapping, carjacking, and resisting arrest.
For additional information about this case, see the NJ.com article, "Man Kidnapped Student, Forced Him on Drive for Drugs, Cops Say."