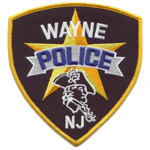 A Belleville NJ man faces serious charges for aggravated assault after allegedly using his car to hit two police officers in Wayne, New Jersey.
The dangerous incident occurred around 5:00 p.m. Two Wayne NJ police officers were in the parking lot of a Hooters restaurant located on Route 23 South when they noticed the suspect s vehicle.
The police officers approached the suspect s car, a BMW, and allegedly saw marijuana in the backseat of the vehicle.
The suspect reportedly became frightened and attempted to flee the scene by putting his car into reverse. The suspect then allegedly crashed into the two police officers, causing both of them to fall to the pavement.
The police officers were joined by a third Wayne NJ officer in their pursuit of the suspect, who reportedly drove through Nutley, Belleville, and Newark. Wayne police eventually caught up to the suspect at the intersection of South Franklin Avenue and Mill Street in Newark, New Jersey.
The suspect exited his car and was struck by a passing vehicle. At that point, the suspect allegedly got into a struggle with a Wayne police officer who attempted to detain him. The suspect allegedly tried to free himself by shoving the police officer into the roadway, putting the cop in danger of being struck by an oncoming Essex County sheriff s car.
The suspect was finally apprehended and arrested.
Medical responders treated the Wayne NJ police officers for various injuries, including numerous cuts and bruises.
The 22-year-old suspect, who lives in Belleville, NJ, has been charged with aggravated assault on a police officer, assault by auto, and eluding police. The suspect was also charged with marijuana possession because police allegedly recovered a small amount of pot from his vehicle.
Additionally, police issued the suspect citations for multiple traffic violations.
After being placed under arrest and processed, the suspect was remanded to the Passaic County Jail. He was being held at the jail while awaiting a bail hearing in Passaic County Superior Court, located in Paterson NJ.
To learn more about this case, check out the NorthJersey.com article entitled "Belleville Man Accused of Hitting Two Wayne Officers with His Car Appears in Court."