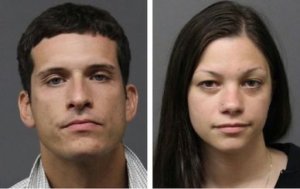 Edgewater NJ police recently charged a Hawthorne woman and a Cliffside Park man accused of threatening a Bergen County Target store.
The suspects are a 31-year-old female resident of Hawthorne in Passaic County and a 33-year-old resident of Edgewater in Bergen County, New Jersey. According to authorities, the suspects phoned in a bomb threat at a Target store located on River Road in Edgewater.
The suspects allegedly committed the threat crime on June 22, 2016. The threatening phone call came from an anonymous number and resulted in law enforcement evacuating the store so that bomb investigators could search the premises.
Police searched the Target store and did not find a bomb or any bomb-making materials on the premises. Bergen County law enforcement then classified the situation as a bomb hoax.
It took almost a year for members of the Bergen County Prosecutor s Office Cyber Crime Unit to complete their investigation into the bomb threat hoax and identify the suspects. Arrest warrants were issued for the suspects, prompting the suspect to surrender to authorities.
The suspects face criminal charges for terroristic threats and making a false public alarm.
After being processed and charged, the suspects were released on their own recognizance. They will have to answer the charges against them at a later date.
To learn more about this case, check out the NJ.com article, "Pair Called in Bomb Threat to Target, Cops Say."